Overview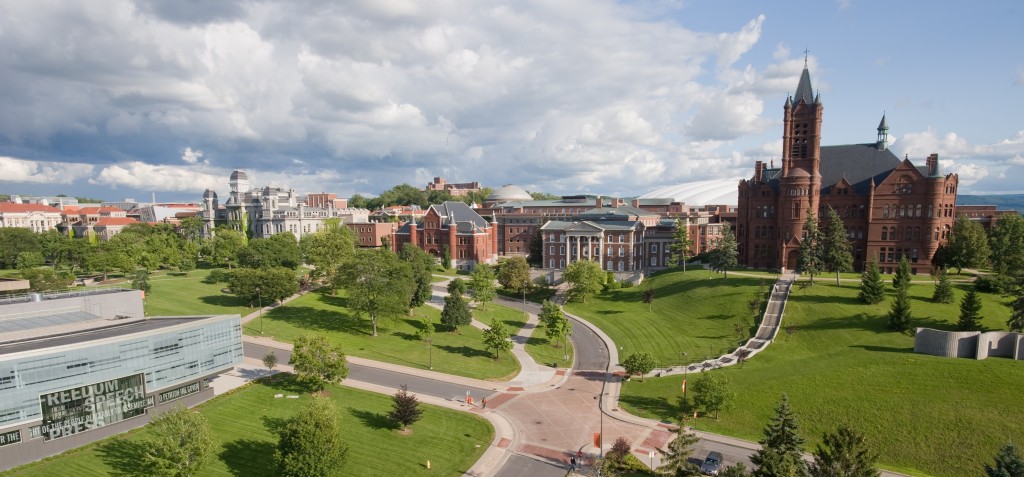 The Connective Corridor is a civic engagement initiative led by Syracuse University, working with the City of Syracuse and Onondaga County.
It brings together urban planning, art, architecture and design, along with principles of smart growth and sustainability in the largest downtown public works project that the city and region has seen in more than 50 years.
Together, project partners have leveraged more than $47 million in new external funding from national, state, local and foundation sources, along with private donors, to implement the initiative.
The academic goal of the project is research, scholarship and civic entrepreneurship, using the City of Syracuse as a "living laboratory" for urban revitalization. Multidisciplinary teams of more than 1400 faculty, students and staff have worked on the project since it was launched.
Construction of a network of new "green streets" with bike and pedestrian paths linking University Hill and downtown business and residential districts were completed in fall 2015. This network, which includes all new infrastructure, completely reconstructed streets, lighting, sidewalks, street furniture, public art and innovative lighting, is helping create a more livable, walkable community along a reconstructed two mile urban corridor.
A highlight of the project is a comprehensive network of new green infrastructure that captures and manages 26 million gallons of water annually through a variety of advanced technologies.
Another key element has been redesigned public parks and spaces, along with landscaping and signage for key gateway nodes to central business districts, along with extensive tree planting. More than 285 new trees were planted along the Corridor to create a "soft" green landscape.
Syracuse University worked with Centro to introduce a free public bus system connecting campus and community venues, with usage counts have grown from 6,000 to 200,000 rides annually. The system links an arts, cultural and heritage district, with campus and community venues working together to program and co-promote the district.
The project is building a public art corridor that features visual art and installations, interactive spaces, outdoor video, performance art, along with public workshops and lecture series.
New downtown signage, and an interactive tourism information portal system was implemented to enhance the Syracuse experience for students, employees, residents and visitors.
More than 70 façade improvements, funded through a grant program, are being completed to augment the new streetscape. Many of these historic preservation projects, along with business district revitalization initiatives.
An innovative "Corridor of Light" initiative is illuminating the City's iconic architecture. More than 23 buildings have been lit downtown through the Corridor's lighting initiative.
The project been recognized as one of the best examples in the country of a public-private partnership. It has won the U.S. Green Building Council's global leadership award as well as the U.D. DOT – Federal Highway Administration's national Environmental Excellence Award for partnerships around smart growth, sustainability, multi-modal networks and community engagement.
The Connective Corridor is one component of Syracuse's revitalization – and part of a story of regional economic transformation. Downtown Syracuse has recently seen more than $300 million in new private sector investment, including $145 million in new residential development. Residential occupancy is at 99% and the downtown residential population has increased 31% over the past three years. The city and region are being recognized nationally for the innovation collaborations that are catalyzing progress and driving change.
Key sources of funding include:
Empire State Development / NYS Dormitory Authority
U.S. Department 0f  Transportation / FHWA
Onondaga County / Save the Rain
City of Syracuse
National Grid, Gifford Foundation, Annie C. Casey Foundation, Kauffman Foundation, CNY Community Foundation, Allyn Foundation and private donors
The project is managed by:
Syracuse University Office of Community Engagement and Economic Development
350 West Fayette Street, Suite 405
Syracuse, NY 13244-3050
(315) 443-4137
email: corridor@syr.edu