Tourism Assistance Portals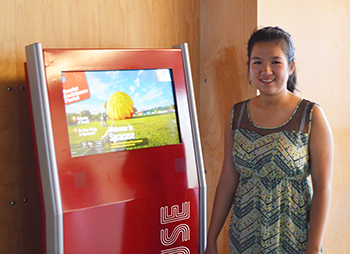 Visitors and residents now have a new fun and interactive way to access information in the Greater Syracuse Area right at their fingertips through a new interactive information network introduced through Visit Syracuse and the Connective Corridor.

"These Tourism Assistance Portals are an unbelievably fun and easy way for businesses to engage with visitors throughout the region," says Visit Syracuse President David Holder.
The inactive touch-screen kiosks work like a website and feature information pulled directly from the Visit Syracuse database. The system is an eco-friendly way to provide visitors easy access to local events, weather, culture and up-to-the-minute guides to regional businesses, maps, photos and more without the paper waste of brochures and flyers. The system also allows visitors to send information directly from the TAP to their cell phones and email addresses.
The Connective Corridor provided funding for the first 11 TAP systems at key public venues along the Connective Corridor and Civic Strip. Locations include:  City Hall, Erie Canal Museum, Everson Museum, Landmark Theatre, the Museum of Science and Technology (MOST), the Oncenter, Onondaga Historical Association, Redhouse Arts Center, Schine Student Center, Syracuse Stage and Visit Syracuse's Downtown Visitor's Center in the Pike Block building.
"The Corridor is a connected arts and cultural district, and the TAP is part of a new wayfinding system that will help visitors, residents and students better explore and experience Syracuse," says Linda Dickerson Hartsock, who manages the Connective Corridor for the University's Office of Community Engagement and Economic Development.
The TAP system was created by BlueFocus Media. The TAP system is currently installed in 12 U.S. travel destinations, including Savannah, Ga.; Newport, R.I.; Northern Indiana; Washington County, Ore.; the Quad Cities; and Newark, N.J. The program's creative director, Iris Stein, is originally from Liverpool, N.Y., and returned home to install the interactive portals.
"After living in Savannah for more than 20 years, it's sensational to see how much Syracuse has grown and changed," says Stein. "I return annually to visit family and now it's exciting to be a part of the enhancement of my hometown."
"We value our strong partnership with Visit Syracuse and are happy to launch this with collaborators along the Corridor," Hartsock says. "Along with the new streetscape, pedestrian and bicycle paths, partnerships like this are a perfect way to help activate the Corridor."
The Visit Syracuse team will continue to improve the system with fresh and informative material. School of Design students will work with the Connective Corridor to provide design and content to highlight the Connective Corridor as a way for students and the campus community to explore downtown.