Public Spaces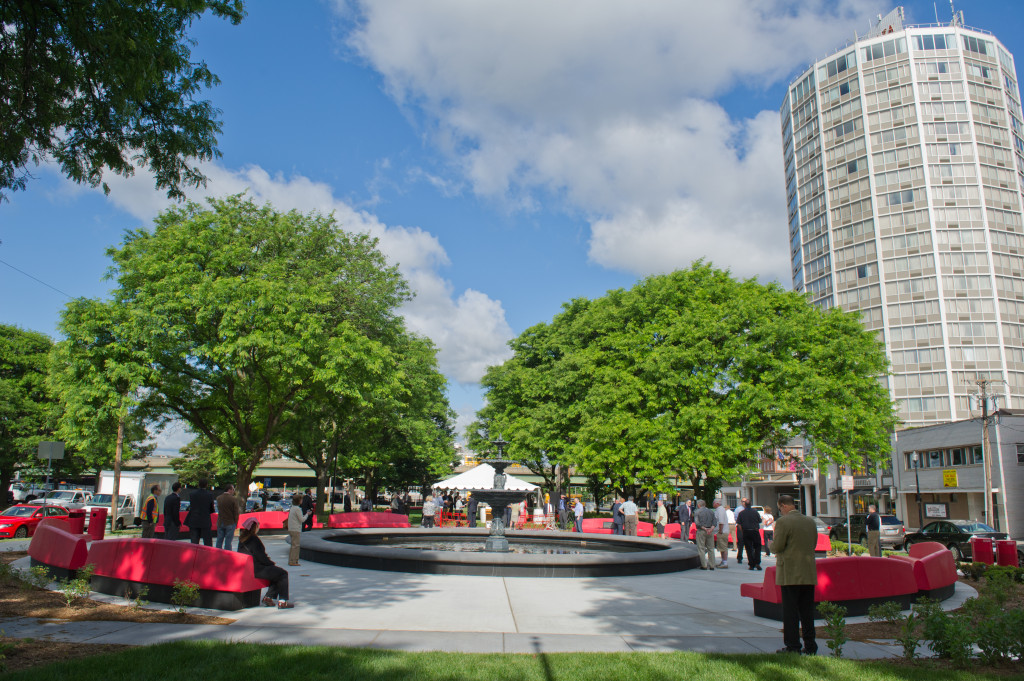 Syracuse has become an urban laboratory for living and learning through the Connective Corridor, and public space projects have come about through a fusion of city and campus.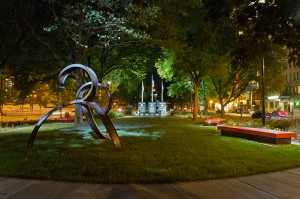 The Syracuse University School of Architecture, urban spaces such as Forman Park were re-designed, working with the OLIN Partnership, one of the country's pre-eminent landscape design firms who also recently completed projects for the Metropolitan Museum of Art, Philadelphia Waterfront, Bryant Park and Columbus Circle in NYC.
Other design partners included Tillett Lighting, a design consultancy that created the iconic "firefly' lighting scheme in the park.
Among other public spaces improved through the Connective Corridor are new landscaped gateway entrance green spaces at the entry to Armory Square, including seating areas and entry signage that promotes downtown activities and events.  Those areas were also designed by the OLIN Partnership.
In 2016 the Connective Corridor will be working on a number of other public space enhancements.  Fireman's Fayette Park will see lighting enhancements, park furniture upgrades and other improvements that "connect" the park as a Corridor project.
A larger scale project will be the revitalization of the Onondaga Creekwalk where it meets the Corridor, addressing interactive elements, public access and shoreline improvements that will allow for greater recreational and entertainment usage.  Discussions are underway about improvements to the "pocket park" — also known as "Lemp Park" at the intersection of Fayette and Warren Streets.
Bicycle user groups will be helping select and install bike repair stations along the streetscape.  The Corridor will be working with the Onondaga Historical Association on a historic wayfinding signage program, and with Symphoria on situating outdoor musical instruments along the Corridor.  A new partnership, funded through the New York State Council on the Arts, will enable Symphoria musicians to take "music to the streets" through innovative new outdoor programming in public spaces.
The Connective Corridor is working with the Syracuse Urban Renewal Agency (SURA) and the Syracuse Public Art Commission on the redesign of Perseverance Park as a new City Park. An international design team has been selected by an independent jury for the project and !melk is working with the City and community stakeholders on conceptual design.  Read more about that project here.
One of the most exciting public space projects planned for 2016 is working with the Everson Musuem to execute entry plaza improvements that were originally envisioned by I.M. Pei but never completed.  These enhancements will allow for the installation of a Grove of Tree of 40 Fruit, to be implemented as part of the Connective Corridor's public art program.