Public Art Installations
Connective Corridor's Public Art Installations
The SU Connective Corridor will be installing ten new pieces of permanent public art along the Corridor from June 2016 to July 2017. The installations are commissions from two public art calls held by the Connective Corridor.
How it Began
In early 2015, the Connective Corridor held two public art calls seeking artists to produce new installations for Syracuse. The first call was a $650,000 open international contest, which received 276 applications from 17 different countries. Our jury first narrowed down the submissions to 16 semi-finalists, and then down to the final six artists who were awarded commissions. The second call was a $150,000 direct call to prominent and upcoming sign painters. Four sign painters were selected for that call.
Since then, we have been working with the artists, the City of Syracuse, Syracuse University, and private business owners to get all projects underway. The following is a brief overview of the artist and the artwork coming this summer and fall.
Let us know your thoughts on the proposed artwork in the commend section below. You can also reach us at qdfletch@syr.edu.
The Artists
Blessing Hancock (Skyrim Studio), Tucson, AZ (blessinghancock.com)
Blessing is proposing a suspended illuminated sculpture over Onondaga Creek in between the SU Nancy Cantor Warehouse and the Creekwalk next to the Marriot Hotel. The proposed artwork consists of a series of curved panels that are arranged into a flowing network of information. The title of the artwork, Current, relates both to the flowing water below, but more importantly to current life in Syracuse. Text displayed on the piece was collected from Syracuse community members and books about Syracuse's history.
Will be installing in October 2017.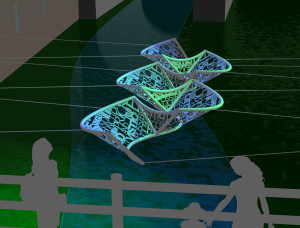 Photo Credit: Skyrim Studios
Sam Van Aken (Sam Van Aken Studio), Syracuse, NY (samvanaken.com)
Sam is bringing his Tree of 40 Fruit home to Syracuse in a big way by planting a grove of eight trees in front of the Everson Museum, located at 401 Harrison Street. While reviewing an original set of architectural drawings of the museum, created by the world renowned architect I.M. Pei, it was discovered that Pei initially intended for two tree pits to be constructed along Harrison Street, however only one was ever completed. Almost 50 years later, Sam's Grove of Trees of 40 Fruit will honor Pei's vision and complete the second tree pit.
Completed November 2016.
Left: Rendering of full grown tree.
Right: Eight trees planted at the Everson Museum
Photo Credit: Sam Van Aken Studios
Marek Walczak and Wesley Heiss (Walczak and Heiss), Allentown, PA (walczakheiss.com)
Marek and Wes are creating a large sculptural monolith that displays texts that tell stories about time using a mixture of: literary quotes, references to past events, puzzles, astronomical information, as well as, contributions from community workshops and website submissions. You can submit your own entry at http://storytime.civic.space. This playful clock of sorts, will be installed in the tree grove south of Columbus Circle.
Will be installing in October 2017.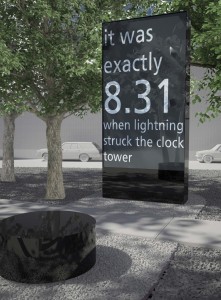 Photo Credit: Walczak and Heiss
Erwin Redl (Paramedia), Bowling Green, OH (paramedia.net)
Erwin will be creating a lighting display at Syracuse Media Group in the Merchants Common building. The display will consist of multiple LED tubes that will gradually change colors.
Will be installing September 2017.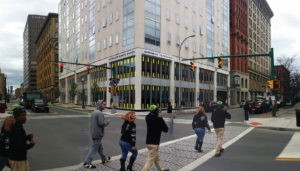 Jon Bocksel (Hand Signs), Brooklyn, NY (www.handsigns.info)
Jon will be painting a two part mural on 321 W. Fayette Street. Playing off of a basketball shot clock, a device invented in Syracuse, the murals will act as quasi-greeting/exiting signs to the Armory Square. People entering from the west will be informed they have made it right before the buzzer. Time resets as they depart traveling east.
Completed June 2016.
Photo Credit: Hand Signs
Mike Meyer, Mazeppa, MN (betterletters.co/tags/mike-meyer)
Mike will be painting a mural approaching photorealism that gestures towards the future of Syracuse. The mural will be located on the curved wall of the exit ramp of the AXA parking structure on the corner of Harrison and Montgomery Street.
Will be installing August 2017.

Cayetano Valenzuela (Black Rabbit Studio), Syracuse, NY (theblackrabbitstudio.com)
Cayetano will be creating a traditional hand lettered sign on the Access CNY building located at 420 E. Genesee Street. Cayetano designed the artwork by fusing his own typographical aesthetic with the graphic style of classic 1930-40s hand-painted signs from Syracuse's past. "The piece is meant to be a positive comment on the enduring fortitude of our city and empower each one that comes across it."
Completed November 2016.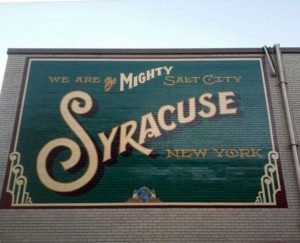 More information coming soon for:
BJ Krivanek and Joel Breaux (Krivanek-Breaux Art and Design), Chicago, IL (www.krivanek-breaux.com)
Josh Luke and Meredith Kasabian (Best Dressed Signs), Jamaica Plains, MA (bestdressedsigns.com)