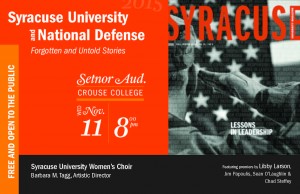 SU WOMEN'S CHOIR CONCERT presents SYRACUSE UNIVERSITY AND NATIONAL DEFENSE:  FORGOTTEN AND UNTOLD STORIES
By Jordan Robinson
National defense and the pursuit of homeland security have pervaded our way of life at Syracuse University, dating as far back as WWI.  Following WWII, Chancellor William Tolley invited all returning war veterans to attend Syracuse University at a time when others closed their doors to our nation's veterans.  Our school is steeped in veterans support and initiatives that have shaped the face of our university.  Because of this, Syracuse University has taken strides to showcase this military history through the art of song in a new concert titled "Syracuse University and National Defense: Forgotten and Untold Stories."
The concert, performed by The Syracuse University Women's Choir, takes the time to reflect on Veteran's Day, when the university is focusing on its deep military roots.  The concert will feature songs that express the military history of SU and will be accompanied by a slideshow of wartime photographs taken from WWI to modern day.  Looking through the photographs with Barbara Tagg, conductor of the Women's Choir and the creator of the concert, I could tell there was a rich history being unveiled through these slides and I was excited for the spectators to see them.
"The hope is to inspire patriotism in our community," said Liza Kranz, Women's Choir member whose grandfather served in WWII as a medic in the Navy.
Some of the songs that will be performed include, "The Road Home" and "Angels of Mercy," selections that will honor those who served in wartime.  Megan Field, another member of the Women's Choir, describes these songs as very powerful.  "Angels of Mercy" stood out to me in particular because it's a song about women who served as nurses during the war, and I felt that message was very powerful in our immediate community."
Barbara Tagg and I first met when she was working on this project months ago in the winter of 2015.  She had reached out to the Syracuse University Veterans' Writing Group and asked to interview veterans as part of her research.  I happened to be one of those members interviewed.  Through the interview process, I was able to understand Barbara's experiences with the military as well.  Barbara's story is one of triumph over trial.  Watching her husband get called to war twice, once to Vietnam and again to the Persian Gulf, changed her perspective on veterans and military families, which was her motivation to start this project.  When Chancellor Kent Syverud announced his initiative to make Syracuse University the best school for veterans, Barbara knew this was the right time to do something special.  "For a long time I wanted to do something that honors veterans," said Tagg.
Key players in the concert such as Dr. Patrick Jones have made all the difference in bringing the Chancellor's initiatives to life.  Jones, former director of the School of Music and retired Air Force Colonel, has conducted countless hours of research within the Institute for Veterans and Military Families and has uncovered a wealth of knowledge in the quest to uncover our military past.  Jones will be narrating the concert on Veteran's Day and has played a large role in the execution of the event.  Having watched this project grow from infancy, Jones would like the audience to walk away from the concert with a greater understanding of our rich military history as well as an understanding that we care about veteran's issues.  "Veterans are a part of the DNA of our community," said Jones, who knows the true value of our veteran history.
Collaboration is the key word that best describes this event.  From working together with various composers to gathering research through the Institute for Veterans and Military Families, Bird Library, and the Syracuse University Archives, many different moving parts came together to make this event a possibility. Engaging SU faculty, alumni, and students with internationally recognized artists, this historical retrospective concert will include narration, projected photographs, and music reflecting the rich history of forgotten and untold stories.  Over 50 people were involved in the project, with contributions ranging from internationally renowned Grammy award-winning composer Libby Larsen to Chad Steffey, who arranged the first treble arrangement of The Air Force Hymn for the ensemble. Original pieces will also premier at this event, such as "While We Are On Earth," composed by Libby Larsen.  Larsen's premiere work is based on texts by Eleanor Roosevelt, Kahlil Gibran, and Mother Teresa.  Other important figures involved include Sean O'Loughlin and Jim Papoulis, both of whom are conductors, arrangers, and composers.
This concert showcases a return to our rich military roots by taking a retrospective look at the service men and women who have contributed to our university over the last century.  It is Barbara Tagg's hope that "attendees will leave with a greater knowledge of the rich veteran history we have at Syracuse University, and for them to know that we are very proud of this history."  Free and open to the public, the concert takes place at 8 p.m. on Wednesday, November 11th, 2015 in the Setnor Auditorium in Crouse College.  From popular tunes of the era and newly composed music to memorial tributes and engaging stories, the concert is sure to instill feelings of patriotism and camaraderie as we reflect on the importance of our military history at Syracuse University.
Note:  This program is presented as part of a five-part Connective Corridor choral series, "Time and Place" with Syracuse University's Setnor School of Music.  The series was funded through a grant to Syracuse University's College of Visual and Performing Arts from the New York State Council on the Arts (NYSCA).  Featuring world-premiere compositions by national and regional artists, the concerts include performances by visiting artists as well as Syracuse University and community choral groups, along with area orchestras.  The five concerts are being staged at iconic locations along the Connective Corridor.  With works that are narratives culled from personal and community histories, the series is meant to invoke a "landscape of time and place." The series reflects NYSCA's commitment to creative placemaking and the Corridor's mission of connecting university and community through creative collaboration.