Urban Cinematheque 2015 promises to be a fantastic way to cap off summer this Labor Day Weekend.  Join us this Friday evening for a spectacular night under the stars, featuring a blockbuster movie on the big screen and a festive arts and cultural fair!  It's the place to be seen, and the Connective Corridor looks forward to seeing you there!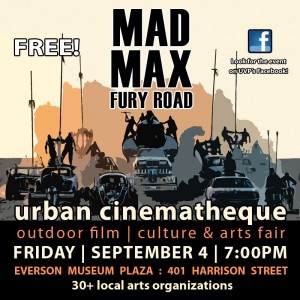 Friday September 4, 2015
7-10pm
Fair opens: 7pm
Movie starts: 8pm
UVP Everson
Everson Museum of Art
401 Harrison Street
Syracuse, NY 13202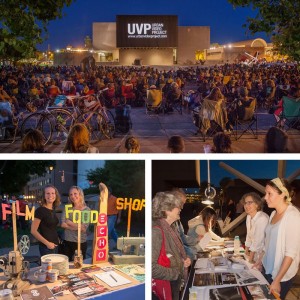 Urban Video Project will present the movie outdoors as a massive projection onto the side of the Everson Museum of Art, a national architectural landmark. This is a spectacle not-to-be-missed.   A who's who of local arts and cultural organizations will also be on hand with information about upcoming events, exhibitions and opportunities to get involved.
This event is FREE & OPEN TO THE PUBLIC.
30+ local arts & culture organizations!
Food trucks!
Free popcorn and lemonade!
Audience members who are able to do so are advised to bring blankets or portable chairs. Limited seating will be available on a first come, first served basis. Street parking as well as pay parking lots are ample in the immediate vicinity.
Charter buses leave from and return to the Schine Student on the Syracuse University Campus Center every 15 minutes from 7–10:30 p.m. The museum can also be accessed via the Connective Corridor bus line.
For the most up-to-date information, join the event on Facebook!
Sponsors:
Urban Cinematheque is presented by UVP and Light Work in partnership with the Everson Museum of Art, Onondaga County Office of the County Executive, and the Connective Corridor, and generous support from area sponsors.