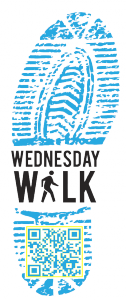 The Connective Corridor invites you to this week's Wednesday Walk: an informative tour about Architecture in Downtown Syracuse. On Wednesday, September 16th @12 noon, meet at Clinton Square by the Jerry Rescue monument on the Clinton Street side.
Our tour guide, Dennis Earle, grew up in the hills just south of Syracuse and, after a long period away from the area, he ultimately returned to the very place he grew up. He has a BA in Art History and a Master's in Architecture, and currently teaches design and design history courses in the School of Design at Syracuse University, where he explores design as a progressive dialogue between evolving cultures, new technologies, and the natural world.
So step away from your desk, get some exercise, and join us as we explore some of the notable buildings in the downtown area and learn about the history, purpose, and designers of downtown architecture.  See the famous "Stone Faces" of Syracuse as part of the tour.
Learn more about Wednesday Walks here.  The biweekly walks are a collaborative effort of the SUNY Oswego Metro Center, Cornell Cooperative Extension of Onondaga County, the Downtown Committee, American Heart Association, YMCA of Greater Syracuse, Onondaga Civic Development Corporation, Fleet Feet Sports and Metro Fitness.