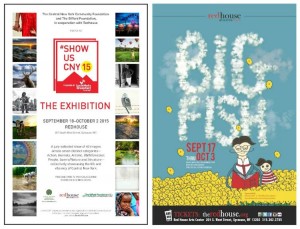 The Connective Corridor is pleased to promote the opening reception for Show US CNY15 at one of our great partner organizations — The Redhouse Arts Center on the Corridor!
Redhouse is located at 201 S. West St., Syracuse. Parking is in a lot diagonal to Redhouse, at the intersection of West Street and West Fayette Street, with entry from either street.
The Show Us CNY15 Exhibition at Redhouse opens to the public on Friday (Sept. 18) and continues through Oct. 2 during regular Redhouse hours. Come, enjoy, make a night of it — and buy tickets for the Redhouse's production of Big Fish.  (Learn more about the show and get tickets at:  http://www.theredhouse.org/)
This year's Show Us CNY15 features an extraordinary collection of regional photograhy.  See a preview and visit the Show Us CNY website.