Point of Contact Gallery to host opening reception of Pin the Tail, an exhibition by Catalina Schliebener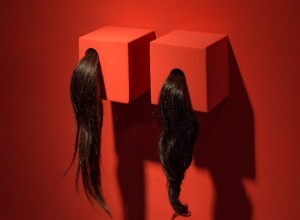 Point of Contact Gallery is hosting an opening reception for Pin the Tail, an exhibition by Catalina Schliebener on Thursday, February 4th. The reception will take place from 6-8pm and is free and open to the public. Refreshments will be served.
Point of Contact Gallery is located along the Connective Corridor at the Nancy Cantor Warehouse, 350 West Fayette Street.  Free parking is available the night of the reception in the Syracuse University lot on the corner of West Street and West Fayette Street.
Free Connective Corridor bus service is also available with a stop at the Warehouse.
Pin the Tail is a site-specific installation based on four photographs found by the artist, Catalina Schliebener, at a garage sale in New York City in 2014. The photographs, which depict children playing Pin the Tail on the Donkey, became the catalyst for this exhibition with the addition of other found objects that relate symbolically or in form. The concept of Pin the Tail started to arise through the discovery of these objects and the potential formal and semantic relationships among them.
Just as in children's stories and songs, children's games involve a subtle normative character through which children indirectly learn rules of behavior, socialize, and acquire specific roles that will later be reproduced in the adult world. Schliebener is interested in working with icons related to youth that implicitly reveal norms associated with the construction of gender, identity, and class. In Pin the Tail, she analyzes and deconstructs the normative character and functionality of the game Pin the Tail on the Donkey. By doing so, Schliebener calls into question the nature of these objects by practicing new discourses in which they are not dependent upon the system that produced them.
Catalina Schliebener (Santiago, Chile, 1980) received her Bachelor of Philosophy of Universidad de Arte y Ciencias Sociales ARCIS, in Santiago, Chile. Afterwards she studied Visual Arts at the same University. From 2002 till 2008 she worked as an assistant professor within the areas of philosophy and art theory at several Universities in Chile. Schliebener's work has been exhibited individually and collectively in galleries, museums and art fairs in Santiago de Chile, Buenos Aires, São Paulo, Lima, Belfast, Londres, Miami and New York. She has also received scholarships granted by the Development of Culture and the Arts Fund of the Government of Chile (Fondart), the Board of Cultural Affairs of the Ministry of Foreign Relations of Chile (Dirac), as well as the Henry Moore Foundation of the United Kingdom.
Exhibitions at Point of Contact Gallery are supported by the College of Arts and Sciences and the Coalition of Museums and Art Centers at Syracuse University.
For more information:
Miranda Traudt, Managing Director, Point of Contact
350 W. Fayette Street, Syracuse, NY 13202
Tel: 315.443.2169/puntopoint.org
pointofcontactgallery@gmail.com