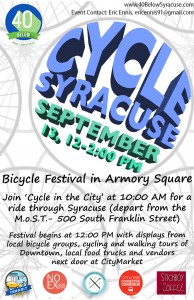 The Connective Corridor is proud to once again partner with 40 Below on a fun bike festival that showcases the growing bicycle culture across Syracuse.  And, as the Corridor's green bike lanes have been installed across the connector route between University Hill and downtown, the event is also a great way to celebrate one of the first "green bicycle" streetscapes in the country.  Corridor street reconstruction wrapped up last week and this will be an inaugural event for the new streetscape.
40 Below is teaming with CityMarket this year, with Armory Square as the hub of cyclist activities and vendors this Sunday. 'Cycle in the City will lead a ride through Syracuse that will start and end in Armory Square, taking off in front of the M.O.S.T. at 10 a.m.
The bike festival event in Armory Square begins at 11:30 a.m. and will feature a bicycle tour of Downtown by NOexcusesSYR, a walking tour along the Connective Corridor, and vendors with cycling flare such as Stick Boy Coffee, a coffee roaster with coffee beans geared toward athletes.  The 40 Below Public Arts Task Force will be on hand, featuring designs for new bike racks that will be installed downtown soon.  The Rack Pack installations in Columbus Circle and in front of the OHA and Erie Canal Museum were funded through a Connective Corridor public art grant to the 40 Below Public Arts Task Force.
The event is once again being organized by Syracuse University alumnus Eric Ennis G'14, a graduate of the public administration master's degree program in the Maxwell School of Citizenship and Public Affairs and a Central New York native who returned home to be part of the revitalization happening in Syracuse. Ennis is Economic Development Specialist in the City of Syracuse's Division of Business Development and is the co-chair of the 40 Below Transit Task Force.
Green Connective Corridor bike lanes were installed on University Avenue and East Genesee Street during phase one of the Connective Corridor project. Green bike lanes were also recently installed in phases two and three, from Forman Park to Salina Street, with bike lanes to be embedded along West Fayette Street to the Warehouse. Syracuse is one of the first communities in the country to implement green bike lane technology, and through pilot projects, the FHWA is evaluating the use of green as the designated universal color for bike lanes in the same way that blue is the international symbol of accessibility parking.
For more information about the event, email 40belowtransit@gmail.com