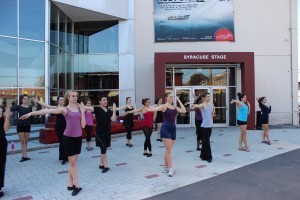 Syracuse Stage Plaza's beloved "Singing Sidewalk" hit a milestone yesterday with three-quarters of a million steps recorded on its 40 force-activated, soundscape bricks.
The renovated plaza was one of the Connective Corridor's first projects.  The iconic "singing sidewalk" and eight innovative, high-intensity illuminated panels were the creation of SenSyr, LLC.  The company is a partnership of Syracuse University physics professor Ed Lipson and Paul Gelling who serves as chief engineer. Gelling was formerly a design engineer with SU's High Energy Physics Group, and prior to that was a senior biomedical engineer at SUNY Upstate Medical University, as well as a programmer for SU's Brain Research Laboratory.
Sensors that are built into the red-colored, "singing" pavers, officially recorded the 750,000 step mark on September 21, 2015.  The Plaza was dedicated exactly three years ago, in September 2012.
The sophisticated sidewalk system, programmable for soundscapes that compliment Syracuse Stage productions, is an extension of SenSyr's work with human-computer interfacing. The large illuminated high-intensity LED panels at the plaza now contain passive infrared motion-sensing technology and feature programmable color shifts when motion is detected.  The entire system was custom designed with extensive coding and electronics developed by Gelling.
The concept for the plaza was developed by Joe Sisko, founding partner of Locus, who is an architectural designer and urbanist.  He was the Assistant Director of UPSTATE: A Center for Design, Research, and Real Estate at Syracuse University where he initiated and managed interactive public space, master planning and design research projects for the institute. He has been an adjunct professor at Syracuse University School of Architecture for the last six years instructing graduate and undergraduate design studios that emphasize urban design, interactive user experience, housing development and advanced media seminars.
Paul Gelling said, "We're glad the Stage plaza interactive technology has been experiencing so much usage, just as we had hoped while we were developing and refining it. It's fun for patrons, passersby, and visitors – and for ourselves too."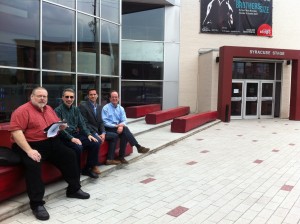 Paul Gelling, Ed Lipson, Joe Sisko, and Jeff Woodward at the plaza dedication, September 2012
Read more about the plaza here: http://connectivecorridor.syr.edu/2012/05/08/syracuse-stage-plaza-lights-up/