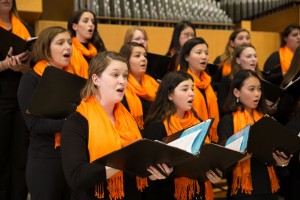 The Syracuse University Women's Choir will present a multimedia concert on Veterans Day, Wednesday, November 11, 2015 at 8:00 PM in the Rose and Jules R. Setnor Auditorium, Crouse College. It is free and open to the public.
The concert will reveal forgotten and untold stories of Syracuse University's nearly hundred-year history of its support of national defense and national leadership in the education of veterans.
The stories will be told through narration, projected photographs, and selected choral music representing various eras starting in the 1920s to today.  The  featured premiere will be "While We Are On Earth" written for the concert by Grammy Award-winning composer Libby Larsen.  Additional works to be premiered include a trumpet fanfare composed by Sean O'Loughlin, "The Air Force Hymn" arranged for treble voices by Chad Steffey, and the treble version of "To Those Who Came Before Us" by Jim Papoulis.  Patrick M. Jones will narrate.  Faculty musicians participating in the event include Garbriel DiMartino, Deette Bunn, Gregory Wood, and Kathleen Roland-Silverstein. Faculty composer Joseph Downing's " Everyone Suddenly Burst Out Singing" will be sung. And familiar songs honoring our veteran's and their families will be heard including popular tunes of the era such as "Boogie Woogie Bugle Boy."
The Syracuse University Women's Choir and under the artistic direction of Barbara M. Tagg, faculty member in the Rose, Jules R. and Stanford S. Setnor School of Music in the College of Visual and Performing Arts.
For most Setnor Auditorium concerts, free and accessible parking is available in the Q-1 lot. If the lot is full or unavailable, patrons will be directed to an alternate lot. Campus parking availability is subject to change; call 315-443-2191 for current information. For more information about the festival and concert, contact Tagg at 315-443-5750 or btagg@syr.edu.
VPA is committed to the education of cultural leaders who will engage and inspire audiences through performance, visual art, design, scholarship and commentary. The college provides the tools for self-discovery and risk-taking in an environment that thrives on critical thought and action. Learn more at http://vpa.syr.edu.
Note:  This program is presented as part of a five-part Connective Corridor choral series, "Time and Place" with Syracuse University's Setnor School of Music.  The series was funded through a grant to Syracuse University's College of Visual and Performing Arts from the New York State Council on the Arts (NYSCA).  Featuring world-premiere compositions by national and regional artists, the concerts include performances by visiting artists as well as Syracuse University and community choral groups, along with area orchestras.  The five concerts are being staged at iconic locations along the Connective Corridor.  With works that are narratives culled from personal and community histories, the series is meant to invoke a "landscape of time and place." The series reflects NYSCA's commitment to creative placemaking and the Corridor's mission of connecting university and community through creative collaboration.