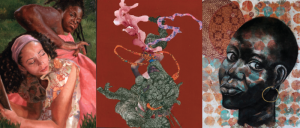 As Bad As I Wanna Be: Reimaging Black Womanhood
Community Folk Art Center,
Opening Reception: February 11th at 6pm
Artist Panel Discussion: February 24th at 6pm
Exhibit runs through April 23, 2016
The Community Folk Art Center presents "As Bad As I Wanna Be: Reimaging Black Womanhood," featuring the work of Nina Buxembaum, Kenyatta A.C. Hinkle and Delita Martin.  The show features emerging mixed media artists who interrogate femininity, gender and race in their work. Each artist's creative practice combines a mix of personal and collective narratives exploring the role of Black women's bodies and its continual subjugation through the appropriation of existing material culture.
CFAC is hosting an opening reception February 11th at 6 p.m. and a February 24th artist panel discussion at 6 p.m. featuring artists Delita Martin and Nina Buxembaum, moderated by Dr. Linda Carty.  Both events will be held at CFAC, located at 805 East Genesee Street, Syracuse.
Check out the Blog Post: http://communityfolkartcenter.tumblr.com/
CFAC was founded in 1972 by the late Herbert T. Williams, a professor in the African American Studies Department, in collaboration with other Syracuse University faculty and students, as well as local artists and Syracuse city residents. The primary motivation and objective for the establishment of CFAC was to provide a high quality showcase for African Diasporan artists, creating a setting for dialogue and interaction among emerging, mid-career and professional artists, in Central New York. In addition to Williams, CFAC founders include Shirley Harrison, Jack White, George Campbell, Mary Schmidt Campbell Jr., David MacDonald, and Basheer Alim.
CFAC initially planted its roots in a small storefront on the corner of South Salina Street and Wood Avenue, then relocated to a converted auditorium on the East side, finally settling into its current space at 805 East Genesee Street, which operates as a multidisciplinary community art center. Located in the heart of the Connective Corridor, CFAC is proud to be a venue for a cross section of the community to gather in the spirit of creative expression.
CFAC's mission is to exalt cultural and artistic pluralism by collecting, exhibiting, teaching and interpreting the visual and expressive arts. Public programming includes exhibitions, film screenings, gallery talks, workshops and courses in studio and performing arts. A proud unit of the African American Studies Department at Syracuse University, CFAC is a beacon of artistry, creativity and cultural expression engaging the Syracuse community, the region and the world.
For more information: Community Folk Art Center | 315.442.2230 | http://cfac@syr.edu  or http://communityfolkartcenter.org/