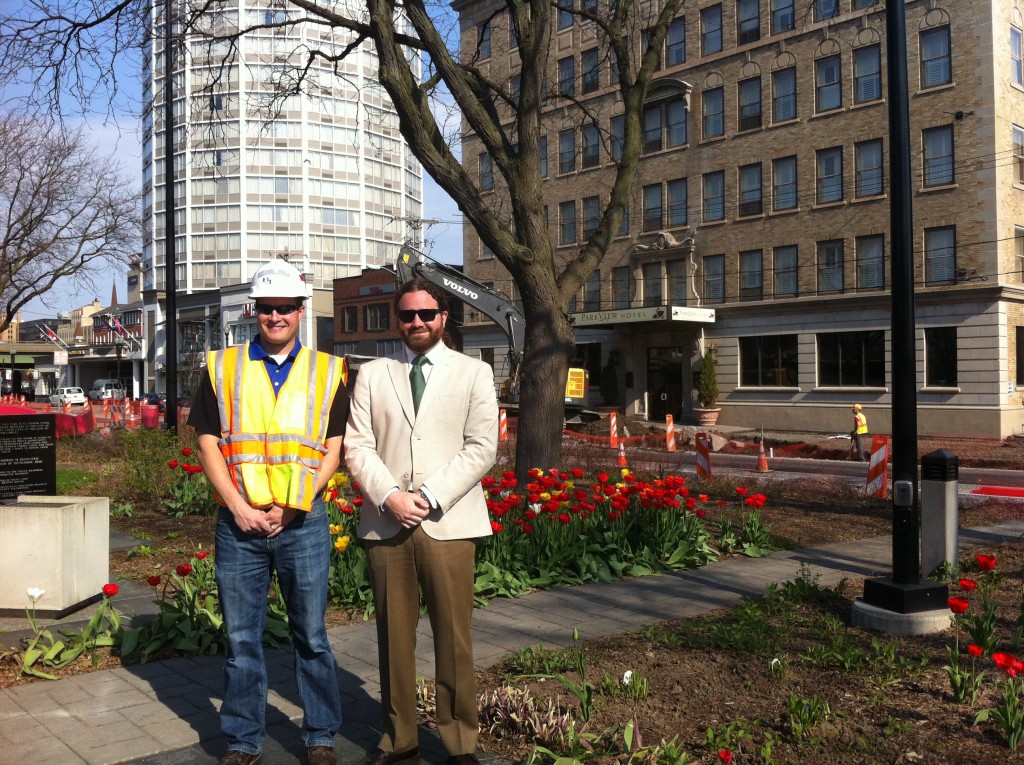 The Connective Corridor is the recipient of the 2015 Excellence in Partnering Competition from the Associated General Contractors of New York State. The award recognized project partners: Syracuse University, City of Syracuse, Onondaga County, Barton & Loguidice, D.P.C. and Barrett Paving Materials, Inc.  It was presented this month at the annual AGC Construction Industry Conference held in Saratoga.
"The award is presented to a New York State construction project that best epitomizes the principles of partnering," noted AGC-NYS in making the announcement. "Partnering is a concept originating with the Army Corps of Engineers in the 1980s, and is a win/win management approach."
"By taking time at the start of the project to identify common goals, common interests, lines of communication and a commitment to cooperative problem-soling, we encourage the will to resolve disputes and achieve project goals."
The competition was open to all contractors across the state, and judging factors included adherence to principles of partnering, team-building, improved communications, and delivery of a quality project. Projects were reviewed by a joint team of AGC and Agency judges, using both objective and subjective criteria.
The Connective Corridor  was one of Syracuse's largest street reconstruction/public works projects in many decades, involving complex federal, state, county, city and local funding sources. "Project management was a big challenge, and the Barrett/B&L team helped us maintain momentum," said Linda Dickerson Hartsock, Connective Corridor director for Syracuse University's Office of Community Engagement and Economic Development. "The project employed a large number of contractors and subcontractors from across CNY, and utilized largely local materials such as stone crush, asphalt and granite curbs from local vendors. Where possible, NYS products were used, including Selux light columns, green methacrylate bike lane materials from Transpo Industries, and all landscaping products from local nurseries. The project created a supply chain and employment impact across the region over the past four years of construction.  Effective partnerships led by Barrett/B&L, working with the City and Syracuse University, helped effectively manage that process."
A Syracuse University civil engineering course on construction management was based on the Connective Corridor, developed and taught by project engineers who worked on the Connective Corridor. A number of Syracuse University engineering alumni were involved in Connective Corridor project management, and Syracuse University civil engineering interns and alumni were engaged with the actual construction. The project was a tremendous field learning opportunity for Syracuse University engineering students and alumni. "In short, we couldn't be more pleased with the collaboration between the University, City, County, U.S. DOT/Federal Highway Administration, NYS DOT and private sector engineers and contractors," concluded Hartsock.
Photo:  Gregory Miller of B&L, SU alum and Connective Corridor resident engineer with Owen Kerney, Syracuse-Onondaga County Planning Agency